2022 Municipal and School Board Elections
The next Municipal Elections take place on Monday October 24, 2022. The elections will be conducted for a term of office commencing November 14, 2022 and ending November 15, 2026.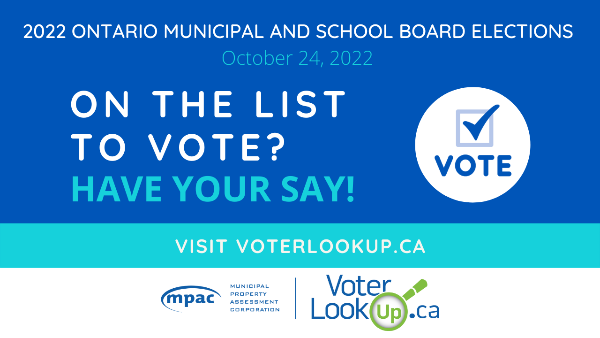 Meet your candidates
Office of Mayor
Office of Deputy Mayor
NAME
CONTACT
DATE FILED

Sylvia BRAY

May 2, 2022

9:21 a.m.
Office of Councillor
NAME
CONTACT
DATE FILED

Chris INKPEN

inkyfit49@gmail.com
705-422-0578

May 2, 2022
9:01 a.m.

Ellen TIMMS

705-441-0076

May 3, 2022

2:34 p.m.
School Trustee - Conseil scolaire Viamonde Board
NAME
CONTACT
DATE FILED

Eric LAPOINTE

ericrlapointe@yahoo.com

May 2, 2022
8:41 a.m.
Key dates
May 2, 2022
Nomination and registration period begins:
First day for candidates to file a nomination paper for the office of Mayor, Councillor, or School Board Trustee (by in-person appointment with the Clerk's Office). A candidate's campaign period begins once their nomination paper has been filed, meaning they may begin accepting contributions and spending money on their campaign.
First day for an individual, corporation, or trade union to file a notice of registration as a Third Party Advertiser. The campaign period for a registered third party begins once their registration paper has been filed, meaning they may begin accepting contributions and spending money on their campaign.
August 19, 2022
Nomination Day
Candidates have from 9 am until 2 pm to file their nomination papers.
A candidate who has filed their nomination papers and wishes to change office has until 2pm to file a nomination for a different office.
A candidate who wishes to withdraw their nomination has until 2 pm to notify the Clerk by filing a written withdrawal.
Nominations or withdrawals cannot be accepted after 2 pm.
August 22, 2022
Last day for the Clerk to certify candidate nomination papers.
September 1, 2022
Copies of the Voters' List are available to certified candidates upon written request.
October 21, 2022
Last day for an individual, corporation, or trade union to file a notice of registration as a third party advertiser.
Individuals, corporations, and trade unions have until 4:30 pm to file their notice of registration.
October 24, 2022
Information for voters
On the voters' list? Check before October!
The voters' list is a list of eligible electors in the Town of Wasaga Beach. During non-election years the town does not maintain a voters' list.
The Municipal Property Assessment Corporation (MPAC) is responsible for collecting the information of residents in Ontario (name, date of birth, citizenship and school support) in order to create a Preliminary List of Electors for municipal and school board elections.
To make sure you are on the list and your information is accurate, visit voterlookup.ca to register, confirm details and update any information that may not be current.
This helps to ensure that the municipality has the most accurate information possible for the 2022 municipal and school board elections.
Take a few minutes to verify your information at voterlookup.ca and encourage your family and friends to do the same.
Once municipalities have the preliminary list of electors, the revision period begins and electors may add their name or make changes directly with the municipality.
2022 Election method
Electors will have the opportunity to vote in person or online (see the Clerk's report). Additional details will be available as we move closer to Election Day.
What Offices can I vote for?
Eligible electors will have the opportunity to cast a ballot for the following offices elected at large:
Municipal Council
One (1) Mayor
One (1) Deputy Mayor
Five (5) Councillors
School Board – Trustee
English Language Public (1 to be elected)
English Language Separate (1 to be elected)
French Language Public (1 to be elected)
French Language Separate (1 to be elected)
Am I eligible to vote?
In order to be eligible to vote, you must meet the Qualifications of Electors as listed in the Municipal Elections Act, 1996, s.17(2)
A person is entitled to be an elector at an election held in a local municipality if, on voting day, he or she,
resides in the local municipality or is the owner or tenant of land there, or is the spouse of such owner or tenant;
is a Canadian citizen;
is at least 18 years old; and
is not prohibited from voting under subsection (3) or otherwise by law.
Who is not eligible to vote?
The following are prohibited from voting in a municipal election:
serving a sentence of imprisonment in a penal or correctional institution
a corporation
acting as executor or trustee or in another representative capacity
convicted of a corrupt practice described in section 90(3) of the Municipal Elections Act, 1996
Voting for students
Students are allowed to vote in both their home municipality and the municipality where they are attending school.
What identification do I need to vote?
Identification is required when you vote. You will need to show ID which contains your name and address. You may have to show two pieces of ID to accomplish this.
Please bring an original or certified/notarized copy, of any of the following documents:
Ontario driver's licence
Ontario Health Card (photo card)
Ontario Photo Card
Ontario motor vehicle permit (vehicle portion)
cancelled personalized cheque
mortgage statement, lease or rental agreement relating to property in Ontario
insurance policy or insurance statement
loan agreement or other financial agreement with a financial institution
document issued or certified by a court in Ontario
any other document from the government of Canada, Ontario or a municipality in Ontario or from an agency or such a government
any document from a Band Council in Ontario established under the Indian Act (Canada)
income tax assessment notice
child tax benefit statement
statement of employment insurance benefits paid T4E
statement of old age security T4A (OAS)
statement of Canada Pension Plan benefits T4A (P)
Canada Pension Plan statement of contributions
statement of direct deposit for Ontario Works
statement of direct deposit for Ontario Disability Support Program
Workplace Safety and Insurance Board statement of benefits T5007
property tax assessment
credit card statement, bank account statement, or RRSP, RRIF, RHOSP or T5 statement
CNIB Card or a card from another registered charitable organization that provides services to persons with disabilities
hospital card or record
document showing campus residence, issued by the office or officials responsible for student residence at a post-secondary institution
document showing residence at a long-term care home under the Long-Term Care Homes Act, 2007, issued by the Administrator for the home
utility bill for hydro, water, gas, telephone or cable TV or a bill from a public utilities commission
cheque stub, T4 statement or pay receipt issued by an employer
transcript or report card from a post-secondary school
Please note that your Voter Notification cannot be used as a piece of identification.
Resources
Ministry of Municipal Affairs Website
Information for candidates
So you want to run for council?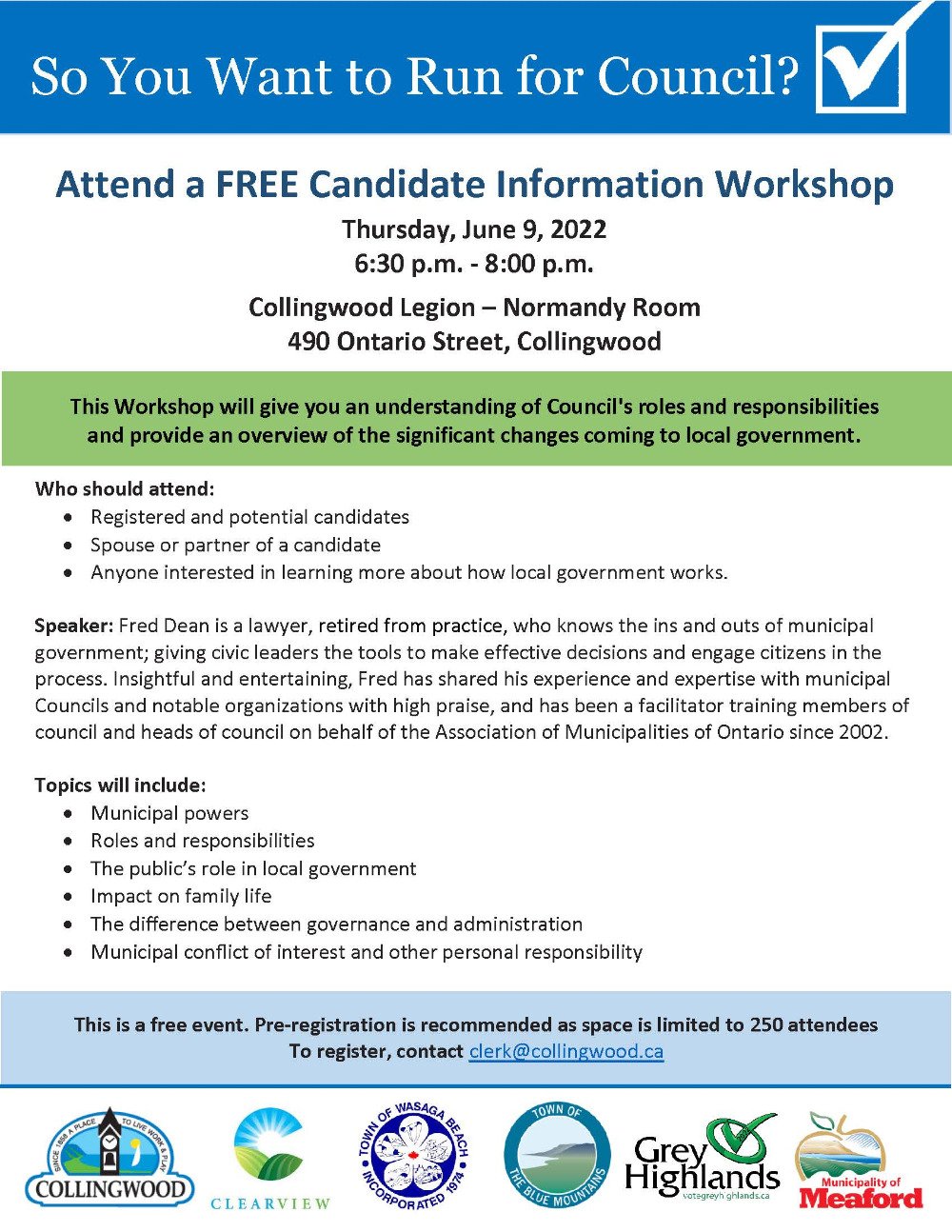 What offices can I run for?
The next municipal election to elect a Mayor, Town Councillors, and School Board Trustees will be held on Monday, October 24, 2022. Eligible individuals may consider running for one of the following offices:
Mayor - one (1), elected at large
Deputy Mayor – one (1), elected at large
Councillor – five (5), elected at large
School Board Trustee - one (1) elected per zone

Simcoe County District School Board
Simcoe-Muskoka Catholic District School Board
Conseil scolaire Viamonde
Conseil scolaire catholique MonAvenir
A person is eligible to be a candidate in a municipal election if they are an eligible elector. A candidate must be eligible as of the day they are nominated and must remain eligible throughout the election period and, if elected, throughout the term of office.
School board member qualifications are as required under section 219 of the Education Act, 1990
How do I become a candidate?
Please make an in-person appointment with the Clerk's office to file nomination papers by emailing election@wasagabeach.com.
Appointments are available between May 2, 2022 at 8:30am up until 2:00pm on August 19, 2022 . Electronic filing is not permitted.
You will be required to provide:
Identification suitable to the Clerk
Application filing fee ($200 for Mayor, $100 for all other offices)
***If you have difficulty accessing the ministry forms above, please pick up a package at the front desk at Town Hall, 30 Lewis Street.
Time commitment
The following regular monthly meetings occur at the town:
Coordinated Committee – generally the second Thursday at 9:00am
Committee of the Whole – generally the third Thursday at 9:00am
Council – generally the fourth Thursday at 2:00pm
Meeting dates and times may vary, and special meetings can be called within the rules of the Procedural By-law. Members of Council should expect to come prepared to meetings, having read their agendas.
Additional duties may include attending town or community events, corresponding with constituents through various means, participation on advisory committees, and more.
Compensation
The town's remuneration by-law 2019-03 sets out compensation for members of council.
Election Signs
It is important for candidates to understand the requirements of the town's sign by-law. Signs that do not comply with these requirements will be removed and candidates will be notified of the location for pick up.
Section 13 of By-law 2021-68 sets out regulations in regards to several aspects of sign placement, including but not limited to:
Election signs are not permitted until the Clerk posts the official List of Certified Candidates following Nomination Day (August 19th).
Election signs are not permitted on any municipal property.
Cannot be erected within 50 meters of a voting place (including vehicles).
No signs/advertising materials (including buttons/pins etc.) can be displayed on or in any municipal property, facility, or voting place.
No town logos, trademarks, or official mark may be displayed
Shall not be located within a sight triangle.
Must not interfere with the safe operation of pedestrian or vehicular traffic.
Must not be posted before the certification of the candidate's nomination, and removed within 72 hours after Election Day.
No more that 2 election signs per candidate on any residential property and no more than 3 on lands zoned otherwise.
Prohibition of Campaigning in a Voting Place
Electioneering or campaigning in any nature is strictly prohibited and is not permitted on any premise used as a voting place. This premise includes the entire building and the property on which it is located.
Section 48 of the Municipal Elections Act, 1996 prescribes:
1) While an elector is in a voting place, no person shall attempt, directly or indirectly, to influence how the elector votes.
2) Without limiting the generality of subsection (1), no person shall display a candidate's election campaign material or literature in a voting place.
3) For the purpose of this section, 'voting place' includes any place in the immediate vicinity of the voting place designated by the Clerk.
Deputy Returning Officers and Election Officials will be instructed to remove any election campaign material or literature of any nature. The decision of the Deputy Returning Officer is final.
Spending and fundraising
Candidates cannot spend or raise funds for their election campaign until their nomination has been filed with the Clerk.
| | | |
| --- | --- | --- |
| Preliminary Amounts | Mayor | All Other Offices |
| Preliminary Maximum Campaign Expenses | $29,430.85 | $26,930.85 |
| Preliminary Maximum Contributions to Own Campaign - Candidate/Spouse | $12,660.20 | $10,160.20 |
| Preliminary Maximum Amount for Parties | $2,943.09 | $2,693.09 |
Financial reporting requirements
On or before March 31, 2023, each candidate shall file the necessary financial reports with the Clerk.
Election Compliance Audit Committee
The Election Compliance Audit Committee reviews applications for compliance audits of the election campaign finances of candidates and registered third-party advertisers and considers report(s) from the Clerk on apparent contraventions of contribution limits.
Information for Third Party Advertisers
What is third party advertising?
Third party advertising refers to advertisements or other materials that support, promote or oppose a candidate, or support, promote or oppose a "yes" or "no" answer to a question on the ballot. Third party advertising is separate from any candidate's campaign, and must be done independently from a candidate.
Who can register as a third party advertiser?
Individuals, corporations and unions can register as third party advertisers and can also make contributions to Third Party Advertisers. Third Party Advertisers are required to register with every municipality where they wish to advertise in.
How to I register?
Third Party Advertisers may register with the municipality starting on May 2, 2022 and until October 21, 2022 during office hours using the prescribed form. Registrations will not be accepted after the deadline. Registration allows a Third Party Advertiser to promote or oppose any candidate that the electors in the municipality can vote for (Council, and School Board Trustee positions).
How do I find out more information?
Information regarding election finances and campaign contributions, including financial responsibilities of third party advertisers and financial reporting is available in the Ministry of Municipal Affairs' Guide for Third Party Advertisers. This and other documentation can be found on the Ministry of Municipal Affairs and Housing website.
Are there financial reporting requirements?
Yes. Financial statements of the Third Party Advertisers are required to be submitted to the Clerk of each municipality registered in by March 31, 2023.
Notices