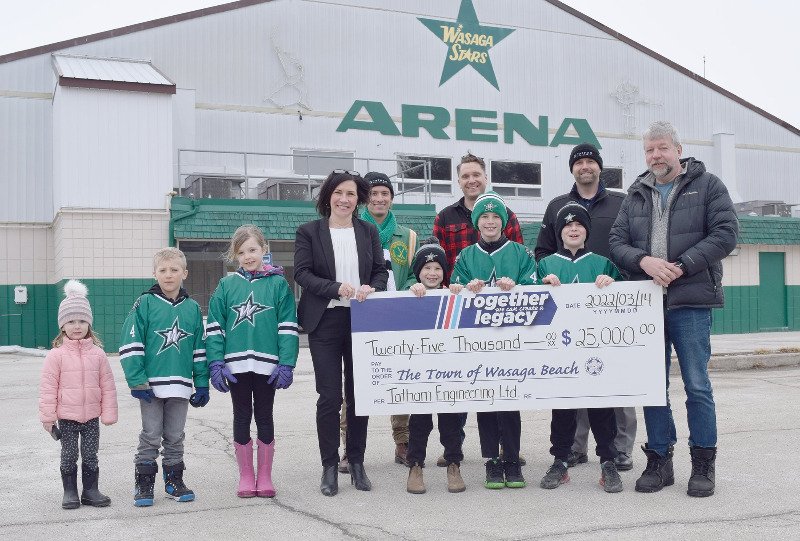 Tatham Engineering Ltd. of Collingwood is the latest contributor to the twin-pad arena and library fundraising campaign.
"On behalf of council and staff, I thank Tatham for its extremely helpful gift. We are grateful for this contribution, which will support an important new facility in our community," Mayor Nina Bifolchi said.
Tatham is donating $25,000 to the project. In recognition of the company's generosity, the children's zone in the library will carry the Tatham name. The zone is the place where children can gather at any time to share experiences – activities, technology, books, art. This will be where families seek entertainment and new adventures.
"Tatham is a proud and dedicated supporter of organizations and initiatives that enhance the communities in which we live and work," said Allan Brownridge, Manager of Municipal Engineering for Tatham. "The twin-pad arena and library will offer residents of Wasaga Beach a central hub to stay connected, with amenities that will support the community's continued growth."
With multiple offices in Simcoe County, Tatham has staff who live in Wasaga Beach with their families and are arena and library users. They look forward to accessing the new facility when it opens in 2023. Brownridge, a Wasaga Beach Minor Hockey volunteer and father to three young hockey players, is excited about a modern facility that will help children develop and serve as a place for families to gather and build memories.
Through sponsorships and donations, Tatham proudly supports children and youth sports teams in our communities.
Learn more about donation opportunities to the twin-pad arena and library project by visiting our website.
Project background information
In January 2019, town council identified the twin-pad arena and library project as a priority for this term. The Wasaga Stars Arena, built nearly 50 years ago, is at the end of its lifespan. The library, which opened in 1994, is too small to meet the needs of our growing community. A review, including a community consultation process, determined 544 River Rd. W. as the best site for a new 117,669-square-foot joint-use facility. When the new complex opens in the summer of 2023, it will include two NHL-size ice surfaces, an indoor walking track, a modern library with proper program space and meeting rooms. The town is funding the $59-million investment through reserves, long-term financing, and community donations.
About Tatham Engineering
Tatham Engineering is a Canadian, employee-owned consulting engineering firm with over 30 years of experience, specializing in Coastal, Land Development, Municipal Infrastructure, Structural, Transportation, Water Resources, Water & Wastewater, Mechanical and Electrical engineering with application to new and redeveloped commercial, industrial, residential and recreation properties. Our extensive experience combined with providing premier services are key factors in our solid track record of successful projects throughout Ontario to a wide range of satisfied clients, in both the public and private sectors. Headquartered in Collingwood, with branch offices in Barrie, Orillia, Bracebridge and Ottawa, Tatham Engineering has a highly capable team of over 160 employees.