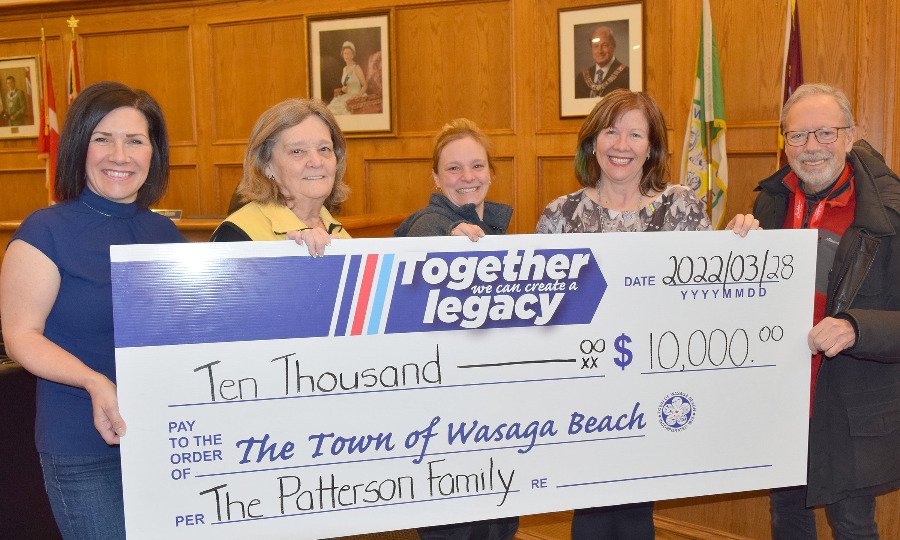 The family of former mayor Cal Patterson, who passed away in August 2021, has made a financial contribution to the twin-pad arena and library project in his memory.
The family has donated $10,000 to the fundraising campaign. Another $5,000, given by various individuals in memory of Patterson, will also go towards the project.
"The arena was such an important part of his life and he was always pushing the need for a new one," said Patterson's wife, Deb. "We've outgrown the arena and library we have, and we are going into a much better space that will meet our needs for many more years to come. This new facility will be a very valued place in our community."
She said the Wasaga Stars Arena holds many memories for her family and other families in town.
"We spent a lot of time in that old arena over the years," Deb recalled. "Our kids skated there, Cal coached hockey there, he played old-timer hockey there, we went to functions upstairs – the building has been a real part of our Patterson family life."
In recognition of the financial support for the building project, a change room in the new arena will carry Patterson's name.
"We are incredibly grateful to the Patterson family for their gift and appreciative of those who donated in his memory," Mayor Nina Bifolchi said. "Cal contributed a great deal to our community as a private citizen and while serving as a councillor, deputy mayor, and mayor. He was a friend and it was my pleasure to serve on council with him. He was very passionate about recreation, sports, and culture, and it was during his time as mayor that we started to plan for the replacement of our arena and library."
Learn more about donation opportunities to the twin-pad arena and library project by visiting our website.
Project background information
In January 2019, town council identified the twin-pad arena and library project as a priority for this term. The Wasaga Stars Arena, built nearly 50 years ago, is at the end of its lifespan. The library, which opened in 1994, is too small to meet the needs of our growing community. A review, including a community consultation process, determined 544 River Rd. W. as the best site for a new 117,669-square-foot joint-use facility. When the new complex opens in the summer of 2023, it will include two NHL-size ice surfaces, an indoor walking track, a modern library with proper program space and meeting rooms. The town is funding the $59-million investment through reserves, long-term financing, and community donations.