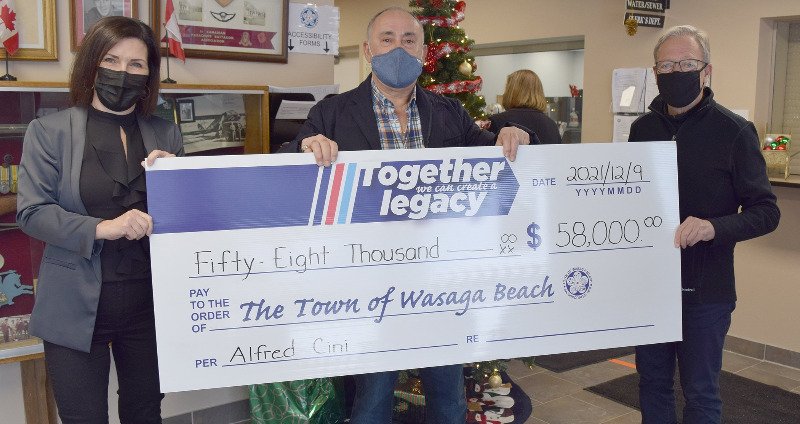 The Town of Wasaga Beach is pleased to announce that Alfred Cini has donated $58,000 to the town's twin-pad arena and library fundraising campaign.
"On behalf of council and town staff, as well as the residents of our community, I extend a heartfelt thank you to Mr. Cini for his very generous donation," Mayor Nina Bifolchi said.
Cini visited town hall to make his contribution to the project on Thursday.
"It was my pleasure being able to give back to the community," said the 21-year resident of Wasaga Beach. "Over the years I have met a lot of great people in this community. After learning about this project I knew I wanted to be a part of it."
The donation is in memory of Cini's stepson, Donovan Bass, who passed away three years ago.
"Being able to do this makes his mom (Donna) and I very delighted," Cini said.
Specifically, in memory of Bass, the donation will go towards the basketball courts next to the building, as well as four benches along the courts.
Bass was an ardent fan of basketball and loved playing the game.
Cini said the facility's basketball courts are something that local residents will get great use of over the years.
Learn more about donation opportunities to the twin-pad arena and library project by visiting our website.
Project background information
In January 2019, town council identified the twin-pad arena and library project as a priority for this term. The Wasaga Stars Arena, built nearly 50 years ago, is at the end of its lifespan. The library, which opened in 1994, is too small to meet the needs of our growing community. A review, including a community consultation process, determined 544 River Rd. W. as the best site for a new 117,669-square-foot joint-use facility. When the new complex opens in the summer of 2023, it will include two NHL-size ice surfaces, an indoor walking track, a modern library with proper program space and meeting rooms. The town is funding the $59-million investment through reserves, long-term financing, and community donations.