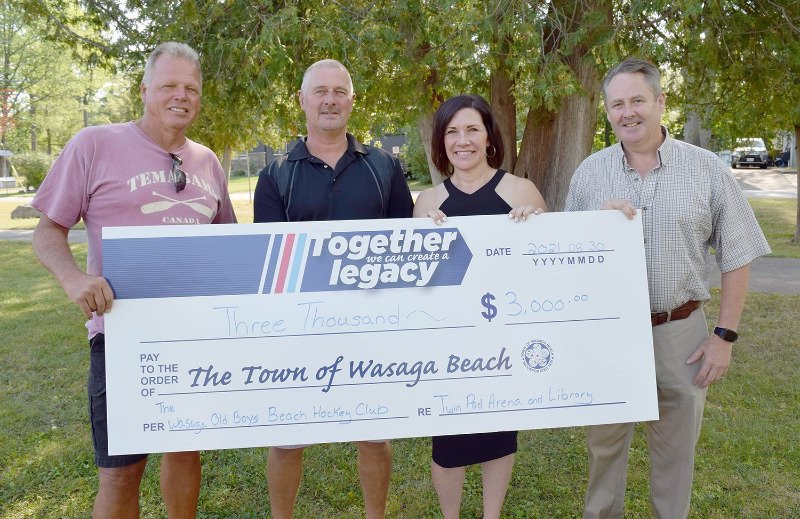 The Town of Wasaga Beach is pleased to announce that the Wasaga Beach Old Boys Hockey Club has donated $3,000 to the town's twin-pad arena and library fundraising campaign.
"We thank the club for its generosity and commitment to our community," Mayor Nina Bifolchi said.
On hand for the presentation was Gerry Reinders (pictured, from left), Andy Hulme, and Dave Stavinga. Mayor Nina Bifolchi accepted the donation on behalf of the town.
The Wasaga Beach Old Boys Hockey Club is a grassroots institution in our community with roots that date back 40 years.
Camaraderie, fun, and giving back have been focal points for the organization since it started in 1980.
Many in the community will recall the club's lip sync competition nights that ran from 1984 to 2005. Great music and good laughs were hallmarks of this event as locals tried their hand at well-known songs.
The club also organized hockey tournaments for 22 years, from 1982 to 2004, making extensive use of the Wasaga Stars Arena for these activities.
In addition, the club has provided scholarships to graduates at Collingwood Collegiate Institute and Stayner Collegiate Institute.
Learn more about donation opportunities to the twin-pad arena and library project by visiting our website.
Project background information
In January 2019, town council identified the twin-pad arena and library project as a priority for this term. The Wasaga Stars Arena, built nearly 50 years ago, is at the end of its lifespan. The library, which opened in 1994, is too small to meet the needs of our growing community. A review, including a community consultation process, determined 544 River Rd. W. as the best site for a new 117,669-square-foot joint-use facility. When the new complex opens in the summer of 2023, it will include two NHL-size ice surfaces, an indoor walking track, a modern library with proper program space and meeting rooms. The town is funding the $59-million investment through reserves, long-term financing, and community donations.