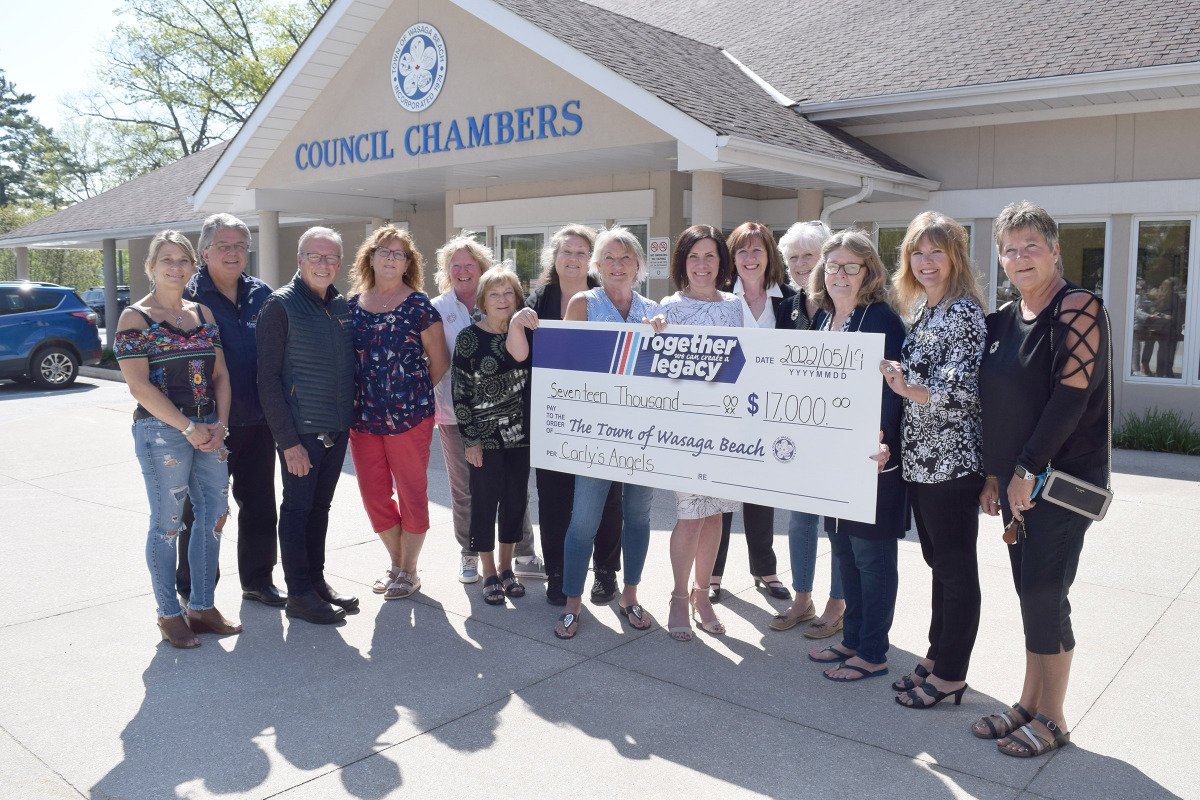 The Town of Wasaga Beach is pleased to announce that Carly's Angels has donated $17,000 to the town's twin-pad arena and library fundraising campaign.
In recognition of the donation, the junior change room and eight arena seats will carry the organization's name.
The local philanthropic group operates in memory of Carly Patterson, who passed away following a battle with cancer in 1998. Carly was the daughter of former mayor Cal Patterson.
Carly's Angels has a long history of supporting important causes in Wasaga Beach.
"The Carly's Angels have always had an obligation to fundraise for the needed amenities and causes in the community for almost 25 years," said spokesperson Debbie Timlock.
Over the years, the group has contributed over $700,000 to many important local projects, plus the Hospital for Sick Kids. This includes the pavilion and gates at the sports park, the RecPlex fundraising campaign, the Wasaga Woods skateboard/BMX park, the food bank, the youth centre, local school programs, defibrillators to local seniors facilities and now the new arena and library.
"This facility is a much needed amenity," Timlock said. "It will be a great gathering place for everyone to enjoy. We are proud that this space will be used to welcome families and visitors to great events and activities."
The Angels are looking forward to all the new facility will offer.
"This will be a modern, safe, spacious facility," said Timlock. "This double-rink is a bonus as ice time is hard to get. The walking track can be enjoyed by all. And the library can hold so many more events and activities for young and old. This is all very exciting."
The Angels, comprised of 10 women, have all raised families in Wasaga Beach and are proud to be part of the arena and library fundraising campaign.
"We are a group of strong, generous women that believe in Wasaga Beach and in our community, so we are always excited to come together for a cause that will benefit our children. This building will be used and enjoyed by local families for generations and that is the best reason to donate," Timlock said.
Speaking on behalf of council and staff, Mayor Nina Bifolchi thanked the group for its contribution.
"Carly's Angels are one of the many great organizations in our community that have done so much to help make Wasaga Beach a better place for everyone. We are so grateful they have chosen to be a part of the twin-pad arena and library project and we thank them for their support," Bifolchi said.
Learn more about donation opportunities to the twin-pad arena and library project by visiting our website.
Project background information
In January 2019, town council identified the twin-pad arena and library project as a priority for this term. The Wasaga Stars Arena, built nearly 50 years ago, is at the end of its lifespan. The library, which opened in 1994, is too small to meet the needs of our growing community. A review, including a community consultation process, determined 544 River Rd. W. as the best site for a new 117,669-square-foot joint-use facility. When the new complex opens in the summer of 2023, it will include two NHL-size ice surfaces, an indoor walking track, a modern library with proper program space and meeting rooms. The town is funding the $59-million investment through reserves, long-term financing, and community donations.