Posted on Tuesday, May 30, 2023 07:35 PM
Statement from the Mayor
Good afternoon,
One week ago our bylaw department became aware of illegal business activity and immediately took action, notifying provincial police.
Three days later, town officials visited this establishment and issued orders to cease operations and immediately discontinue the unlicenced business activity occurring on the premises.
Today, the Town has enforced that order.
The establishment has been shut down.
As the Mayor of Wasaga Beach, I speak for all of Council when I...
Posted on Friday, May 12, 2023 03:56 PM
***UPDATE*** May 18, 2023
We are happy to report that this event has been resolved.
All walking trails are open as of 12 noon today - enjoy!
UPDATE: May 16, 2023
Wasaga Beach takes the protection of human health and our environment seriously.
On May 12 an incident occurred involving a sewage leak at the Wasaga Beach Wastewater Treatment Plant on Woodland Drive.
We thank the concerned citizen who reported the incident; immediately following this call teams were notified and action was taken on-site.
Posted on Friday, April 28, 2023 04:53 PM
Moving Wasaga Beach Forward
Standing room only as members of community come forward, express broad support during first public meeting on the future of the downtown and beachfront
Wasaga Beach — The first of several public engagement meetings on the future of Wasaga Beach's downtown and beachfront filled the RecPlex to capacity last night.
"We have invited you here tonight, to help us continue to move Wasaga Beach forward," said Mayor Brian Smith.
"It's about more than simply protecting our...
Posted on Friday, April 21, 2023 04:31 PM
2023 Budget Invests in the Future of Wasaga Beach
Council approves budget that will tackle infrastructure priorities, improvements to roads, parks and playgrounds and build a stronger, more sustainable Wasaga Beach
Wasaga Beach — Maintaining a safe and healthy community and investing in essential infrastructure to support residents, businesses and sustainable growth, now and in the future, is the focus of the 2023 Budget for the Town of Wasaga Beach.
Council approved the 2023 Budget on April 13,...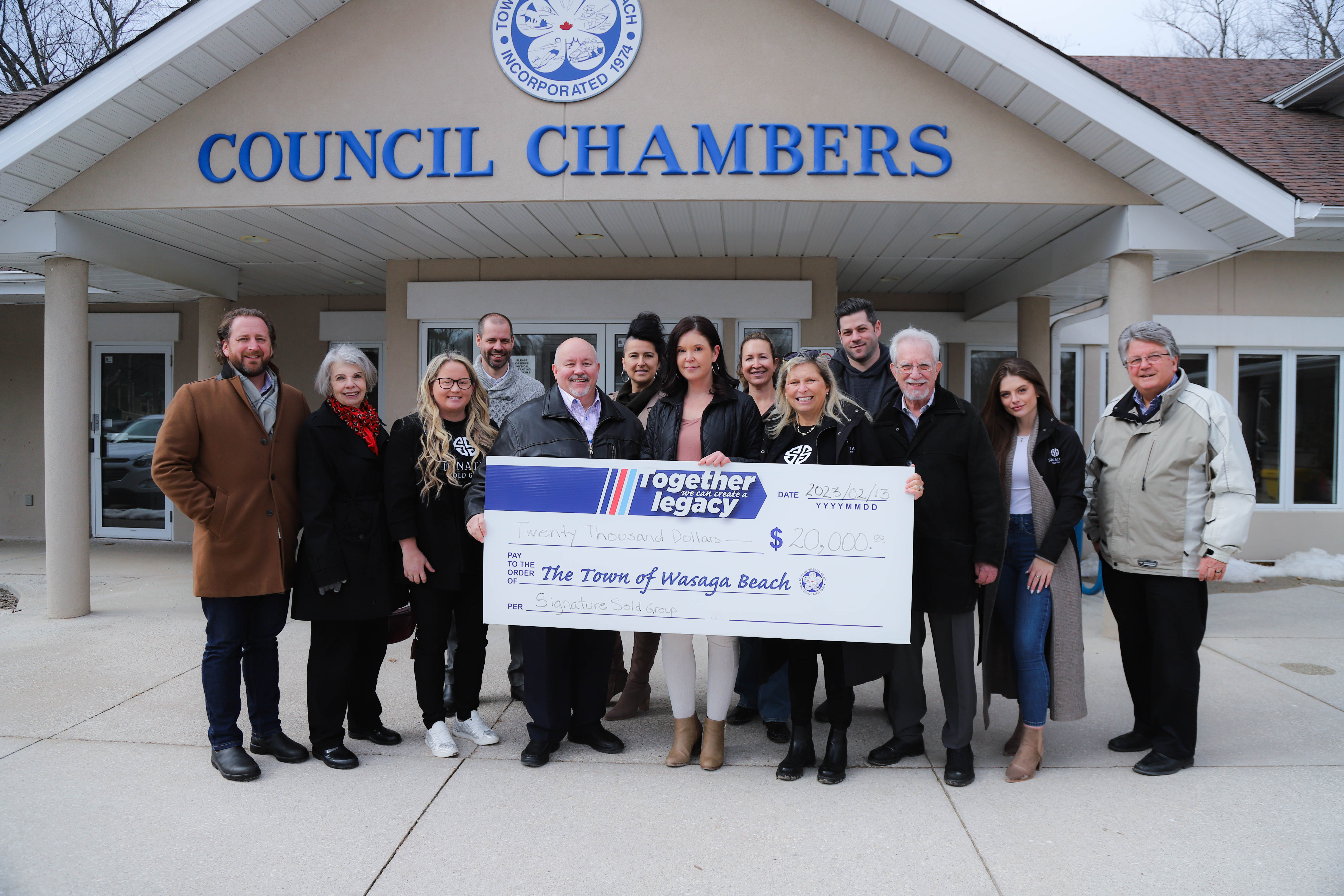 Posted on Tuesday, March 14, 2023 03:36 PM
Wasaga Beach – The Town of Wasaga Beach is pleased to announce that the Signature Sold Group has donated $20,000 to the town's twin-pad arena and library fundraising campaign.
"On behalf of council, I thank the Signature Sold Group for its generous donation towards the arena and library project. This is a kind thing to do and will touch the lives of so many in the years ahead," Mayor Brian Smith said.
Realtor Nadene Milnes, Broker and Owner of Signature Sold Group, said she is happy to be a part of the...