Posted on Thursday, July 14, 2022 06:09 PM
The Town of Wasaga Beach is moving ahead with the revitalization of the Mills Park playground.
Located at 30 Lewis St., next to the municipal office, the playground is closing next week so the work can begin and will re-open on approximately Sept. 22. The tennis courts next to the playground will remain open.
In March, council awarded the $297,558 park revitalization project to New World Park Solutions.
The project includes the following work:
Removal of the existing playground structure
Removal...
Posted on Thursday, June 23, 2022 09:43 AM
A designated left turn lane and right turn taper will be built on County Road 7 at Morgan Road.
Work will start on or about July 25 and continue until approximately Sept. 22.
See the construction notice for details.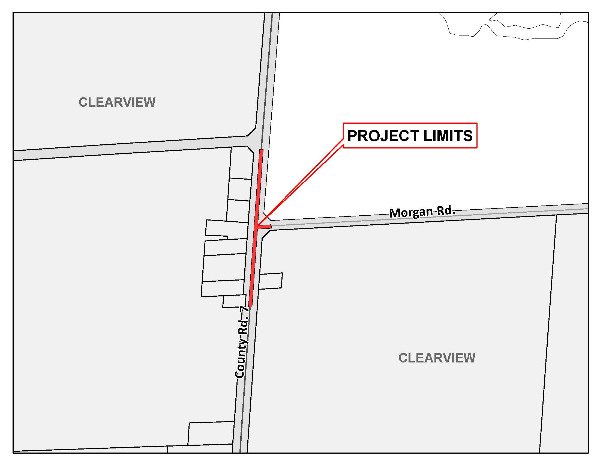 Emergency contact
Georgian Paving
Ivan Galbraith
Site Superintendent
Tim Fawcett
Project Manager
Posted on Monday, June 20, 2022 01:40 PM
River Road West eastbound lanes will be reduced to one lane, from 28th Street South across the Schoonertown Bridge to Oxbow Park Drive. This is required to replace the existing watermain and forcemain under the Nottawasaga River. The proposed works are expected to start the week of June 20 with completion by Sept. 16.
Posted on Friday, April 01, 2022 05:02 PM
The Town of Wasaga Beach is fixing a sewage forcemain leak just southwest of the Schoonertown Bridge.
Forcemains are pressurized pipes that safely transfer waste from pumping stations to the Water Pollution Control Plant. This section of forcemain carries wastewater from west of the bridge to the Water Pollution Control Plant further east on Woodland Drive. A section of the forcemain crosses the Nottawasaga riverbed, next to the bridge, and then ultimately leads to the plant.
Public...
Posted on Wednesday, September 08, 2021 02:06 PM
Please be advised that reconstruction of Shore Lane between 39th Street and 41st Street including, concrete mountable curb, and new storm sewer is scheduled to begin the week of September 13, 2021.