Reality:
Communication with the public is something the Town of Wasaga Beach takes seriously.
We use a number of different tools and platforms to share accurate information about town services, programs, and council decisions. One tool we use on a daily basis is Facebook.
Authorized staff manage our corporate Facebook page, as well as a handful of departmental Facebook pages, including our events page and our youth centre page. These staff also serve as page moderators.
No one but authorized town staff manage the town's social media pages. Suggesting otherwise is inaccurate and only perpetuates a falsehood.
Screen grab showing the page is managed from within Canada.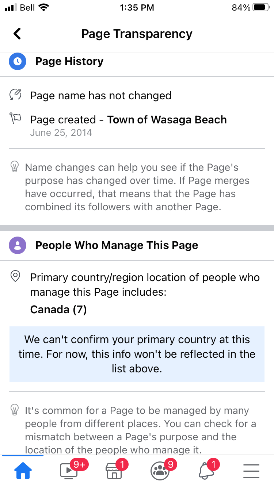 Rumour:
Facebook Post – Laura Black Smith: This was sent to me out of curiosity…Why is our Town Government page managed by 5 people in India? I checked with Penetanguishene, Midland and Brampton who all have Town pages on Facebook and they do not have anyone out of Canada managing them.