The Town of Wasaga Beach has a busy summer planned for the main beachfront area of our community.
We have a variety of events organized for residents and visitors alike. All of the town-owned beachfront properties are leased, including nine retail units, five food establishments, and two liquor-licenced locations, promising for an exciting 2022 summer season.
Our tentative events schedule – subject to changes –includes the following:
May 21 – Summer Launch
June 18 and 19 – Waterfront Festival
July 2 – Beachfront Music (Fridays and Saturdays Canada Day weekend to Labour Day weekend).
July 6 – Summer Movie Nights (Wednesdays until Aug. 31).
July 1 – Canada Day
July 9 – Wasaga Beach SUPFEST
July 20 to 24 – Wasaga Beach Midway
July 23 – F-Series Truck Rally
Aug. 4 – Bard's Bus Tour
Aug. 13 and 14 – Wasaga Under Siege
Aug. 13 and 14 – Roundnet Tournament
Aug. 18 to 22 – Poutine Feast
Aug. 27 – MultiSport Triathlon
Sept. 4 – Memories of Summer
For full details on these events and other activities, please watch our events calendar, visit our Special Events webpage, and follow our Special Events Facebook Page.
We also expect to tender this summer for the first phase of the Beach Drive reconstruction project. Work will start this spring with the demolition of the buildings between First and Third Streets and continue in the fall with road works and carrying into 2023.
Work includes the reconstruction of Third Street, between Mosley Street and Beach Drive, together with the reconstruction of Beach Drive, between First Street and Third Street. In addition, there will be work along the north side of Mosley Street and Second Street South.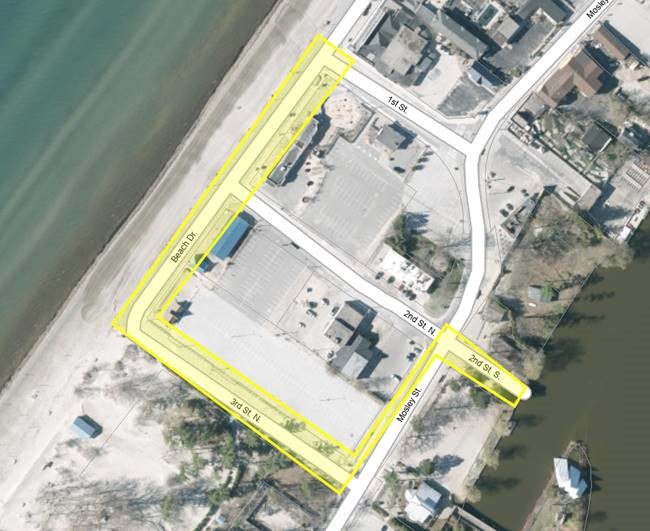 Reconstruction work will involve the installation of infrastructure to support the redevelopment of town-owned land at the beachfront, including the raising of Beach Drive to make it a fully accessible pedestrian walking promenade.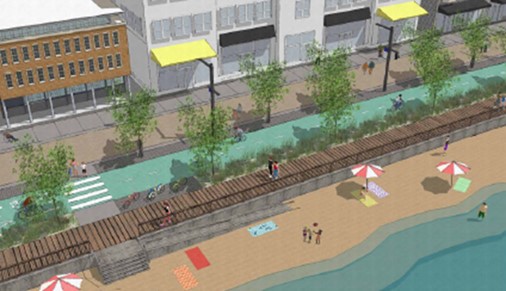 Learn more about our reconstruction plans for the area road network.
See our website to learn more about the town's plans to redevelop the area.
See our Beachfront redevelopment Q&A to learn more about the project.
Council approved leaving Beach Drive closed in 2021 due to the high water levels and pending reconstruction work. During the Environmental Assessment process in 2019, public meetings were held and the overwhelmingly favourite option was to keep Beach Drive closed and develop the area as a promenade similar to the image above.
Why is Beach Drive covered in sand and closed to vehicles? I used to drive on it.
Since the closure of the road, businesses have continued to thrive and do well in the area and we expect this trend to continue in 2022. As well, residents and visitors have expressed their satisfaction with the greater pedestrian focus, saying it presents a nicer vibe, is more environmentally and family friendly, and overall is more welcoming and safer than when vehicles could travel immediately next to the beach, where people enjoy the water and sand.
Keeping the road closed will allow the infrastructure work to occur uninhibited and eliminate the costs associated with opening and closing the road while trying to manage the reconstruction project. This represents a responsible use of tax dollars.
The new pedestrian features are in keeping with continued town efforts to promote healthy and active living and are in line with other communities that have made improvements to their waterfront.
Lots of parking remains available both in the municipal and Ontario Parks' parking lots. Remember parking is free in the municipal lots up to the Victoria Day long weekend.
Watch our website and social media channels for further construction details in the months ahead.