Once again, the Beach Booster publication is providing inaccurate information to the residents of Wasaga Beach.
The October 2020 edition of this publication contains several items that are wrong, misleading, and lacking context. As a result, the town is setting the record straight.
The first thing that residents must know is this publication is not a legitimate source for news.
The publication operates under the guise of a newspaper, but it falls short of the standards used in newsrooms across this country, both in print and broadcast media. That is a strong statement to make but factual nonetheless.
Real news organizations take the time to do their research before writing a story.
Real news organizations allow for comment from both sides of an issue.
Real news organizations don't make statements they know are false.
Real news organizations make it clear to their readers when content is "news" and when it's "opinion".
Real news organizations correct their mistakes.
Residents looking to access real local and regional news from credible sources should consider the following:
The Beach Booster fails to practice ethical journalism. To learn what constitutes ethical journalism in this country, see The Canadian Association of Journalists' website. You'll see The Beach Booster falls far short of the CAJ's established ethics. Here are a few of those ethics:
We are disciplined in our efforts to verify all facts. Accuracy is the moral imperative of journalists and news organizations, and should not be compromised, even by pressing deadlines of the 24-hour news cycle.
We make every effort to verify the identities and backgrounds of our sources.
We seek documentation to support the reliability of those sources and their stories, and we are careful to distinguish between assertions and fact. The onus is on us to verify all information, even when it emerges on deadline.
We make sure to retain the original context of all quotations or clips, striving to convey the original tone. Our reporting and editing will not change the meaning of a statement or exclude important qualifiers.
It is understood that the public obtain information about the community from a variety of sources. The most reliable source of information about the Town of Wasaga Beach is our website at www.wasagabeach.com.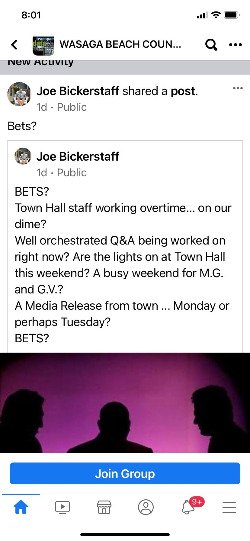 Real journalists don't publish information that falls short of industry standards and then take to social media as Mr. Joe Bickerstaff, one of Beach Booster's proprietors, did the other day and wonder what the reaction will be.
In the Beach Booster's latest publication, on page 8, it suggests "collusion" and "corruption" at town hall without offering one iota of evidence. The publication says "the most recent" example of collusion is council's decision to move ahead with the twin-pad arena and library project.
For starters, there is no "collusion" at town hall and there is no "corruption" at town hall. At the start of this term, the town council, duly elected by the citizens of this community, established its goals and priorities for the term.
As a result, town staff are working under the direction of council to achieve these objectives. At all times, staff operate under council-approved policies and council-approved direction. Staff present options and council votes on how it wishes to proceed. This is democracy and this happens in public.
The town knows that not everyone supports council's direction. That is fair, everyone is entitled to their opinion. Alleging collusion or corruption at town hall because you don't agree is inappropriate.
If Beach Booster has proof of collusion or corruption at town hall, then it should produce hard evidence of this and ask for comment from the parties involved. That is how responsible journalism works.
Beach Booster also fails to disclose clearly to its readers that the town has a financial plan for the twin-pad arena and library project that articulates how the town will pay for this project. The plan, despite Beach Booster's inaccurate statement otherwise, spells out various pros, cons, and options.
Also on Page 8, Beach Booster headlines an item "Points to Ponder and Question" and then suggests there is a lack of transparency about the twin-pad arena and library project. This is false. There is ample information on the project; it is in the staff reports on various committee and council agendas, as well as on the town's web site, and in e-newsletters and Q&As.
Real journalism involves reporters putting real questions to people. Questions aren't simply put forward in a publication in an inflammatory way. "Points to Ponder and Question" simply represents lazy writing. Writers for the Beach Booster were too lazy to contact the town and allow it the chance to comment.
Also in "Points to Ponder and Question", Beach Booster fails to disclose that the town's financial plan discusses operating costs for the new arena and library. In contrast, reporter Ian Adams of Simcoe.com provides professionally written stories here and here.
In the same item, Beach Booster attempts to discuss construction costs for the new arena and library, suggesting they could run as high as $75-million. Where did this figure come from? Beach Booster doesn't tell its readers. It offers no attribution. Nor does the publication give the town a chance to comment. For the record, we don't believe that number is anywhere near accurate.
Again in "Points to Ponder and Question", Beach Booster mentions a request from the YMCA to the town for funding over a two-year period, starting in 2021. In a public presentation, the YMCA asked for $480,000 each year. What Beach Booster fails to tell readers is the request was referred to staff for review and recommendation. Further, Beach Booster fails to mention that town staff have been in discussion with the YMCA since the request and that town staff are working on a proposal for council's consideration. If Beach Booster had only called town staff to learn the latest it could have shared that information with readers.
Towards the end of its so-called "Points to Ponder and Question", the Beach Booster suggests the twin-pad arena and library project should be paused due to COVID. What the Beach Booster fails to disclose is the current arena is near the end of its lifespan. Beach Booster also fails to disclose that the town has been socking money away, through development charges and transfers to reserves, to fund these projects. What the Beach Booster also fails to do is share details about the financial plan for the project. What the Beach Booster fails to do is note minor hockey, figure skating, and other user groups will soon have no local ice surface for programs. What the Beach Booster fails to do is disclose to readers that the public library is far too small to support modern library programs. Ultimately, what the Beach Booster fails to do is tell its readers the whole story.
The Beach Booster encourages readers to be aware and engaged. We completely agree.
You can be aware by watching our committee meetings and council meetings. Find them on our YouTube channel.
You can be aware by reading our agendas and related staff reports. Find them here.
If you have questions, reach out to members of council or staff.
Read our Q&A on the twin-pad arena and library to get accurate information about this project – from its early days to present.
You can also be aware by following credible news organizations such as simcoe.com and The Wasaga Sun, Max FM, and CTV News Barrie. These organizations cover the town and provide accurate and balanced reports. And from time-to-time, when they include erroneous information by mistake, they correct it.
On Page 9 of the October edition of Beach Booster, an item includes the banner headline: Wasaga Beach Ratepayers Association's Frustration with Council's Lack of Transparency. On the surface that looks like a headline one might expect to find in a legitimate news publication. But Beach Booster fails to disclose the following:
Is this item a news story?
Is this item an opinion piece?
The reader should not have to guess.
If the item is a news story, why is it not a fair one?
Why does the town not get the opportunity to offer comment?
If it is an opinion piece, that should be clear.
The information in the item also lacks context. It is completely void of details about the Freedom of Information and Protection of Privacy requirements and this particular request for information from the town.
The item is about a freedom of information request for documents related to the negotiation and purchase of 544 River Rd. W. – the location of the new arena and library.
The decision letter, had it been shared by Beach Booster in its entirety, would explain why the town could not share the information as requested. Simply put, exemptions in the act apply when the documents contain confidential information. In this case, there was information supplied in confidence by a third party. Also included were closed session minutes that deal with the negotiation of 544 River Rd. W. The decision made by town staff to withhold the information, based on the exemptions in the Municipal Freedom of Information and Protection of Privacy Act, is appealable to the Information and Privacy Commissioner's Office. The town is bound to follow the ruling of the office.
An item on Page 9 of Beach Booster also attempts to look at the lack of grant money for the twin-pad arena and library project. The item refers to the Downtown Master Plan and the inclusion of an arena and library as part of a community and cultural hub on Main Street. What the item fails to disclose is this was a vision for Main Street that belonged to the last council, which was largely defeated in the October 2018 municipal election. A new council was elected and through a proper process identified various potential sites for a new twin-pad arena and library, including the Main Street site. Each site was evaluated on is merits, the public consulted, and 544 River Rd. W. was selected. You can learn more about this exercise on our community engagement website and in our Q&A.
Beach Booster also fails to mention that the plan to locate facilities along Main Street during the last term of council never included a financial strategy of any detail. In other words, there was no clear financial plan to pay for this vision. They certainly don't discuss the need for land. They don't discuss what that would have cost the taxpayer. And they don't discuss the expensive process to expropriate the required land.
The publication fails to note that the town is ready to submit an application for library and arena grant funding, if an appropriate opportunity arises. Council is not prepared to pause the project, however, and put user groups at risk of not having an arena or adequate library. Wasaga Beach is not the only progressive community moving ahead with infrastructure projects of this nature. Guelph city council recently voted to move forward with similar projects.
Wasaga Beach is a growing community and amenities, such as a twin-pad arena and modern library, are expected. These new facilities are positioning our town to be ready for the future. The pandemic will not last forever. Council wants to ensure the town has the facilities that help make Wasaga Beach a complete community. Successive councils have been setting aside funds for these types of amenities for years. Joint facilities, such as the town is planning, are increasingly common. They are more efficient to operate and manage, and they allow greater flexibility in terms of how the space is used.
Beach Booster makes statements in the Page 9 item that contain no attribution. Is this a news item or an opinion piece? We simply don't know.
"The current council has thumbed their noses at this same ministry with its conduct over the past couple of years," states the Beach Booster, in reference to town council and the Ministry of Tourism, Culture and Sport.
Who is making that statement? The Beach Booster? Someone else?
Fact is such statements don't represent responsible newswriting. If this is an editorial, make that clear.
The town enjoys good relations with the ministry and the entire province. The town has regular contact with the province on a number of matters.
On Page 9, Beach Booster also includes a headline 'Write to the Premier!" to encourage residents to write Premier Doug Ford about municipal impropriety at the Town of Wasaga Beach. John Sare, a local resident, has signed the item. What Beach Booster and Mr. Sare fail to do is offer one item of proof about impropriety. All the reader gets is their opinion. They fail to note that all of council's decisions happen democratically at the council table. They fail to note that all financial planning is in the annual municipal budget, as well as longer-range plans. They fail to note the town's finances are audited each year to ensure everything is above board. In his letter, Mr. Sare attempts to suggest the pandemic is placing the town's finances at risk. He fails to disclose town information that tells a more fulsome picture. You can read the town treasurer's financial report here. Beach Booster and Mr. Sare might not like the way council is conducting its business, but suggesting impropriety without any proof is simply wrong and misleading to the public.
On Page 7, Beach Booster publishes an advertisement containing incorrect information about the 2021 draft budget. The notice suggests there will be a 27 percent municipal tax increase. This is simply not true. If Beach Booster bothered to check with the town, it could have published the correct information. For accurate details about the 2021 draft municipal budget, see here. You will find two Budget Updates containing the facts and links to our YouTube channel, where you can watch the actual budget meetings.
It is extremely disappointing that the town must devote resources to correcting inaccurate information in Beach Booster. Other media outlets present fair and accurate journalism.